Disc problems
Overview | Causes | Symptoms | Diagnosis | Treatment | FAQ
The shock-absorbing discs that separate the bones in the spine are probably the most common reason for spine surgery. The disc is much like a jelly doughnut, in that there is an outside wall to the disc and a soft center. The "jelly" is the inner spongy portion of the disc, called the nucleus pulposus. Encircling the jelly nucleus are hard bands of fibrous tissue called the annulus fibrosis, or disc wall.
[top]
With age, the disc can become more brittle and susceptible to herniation or rupture. Years of strain, and poor body lifting form, can take a toll. One day, a sudden stress from lifting can cause this weakened disc to rupture, allowing the jelly center to squirt out of the disc space. This jelly contains chemicals which are extremely irritating to the nerves, which can also cause swelling.
[top]
Because the nerve roots act as telegraph lines to other parts of the body, a common complication of disc herniation is that it can cause pain that is felt in other parts of the body, like the leg. In fact, leg pain below the knee is a common herniated disc symptom. This radiating pain is called radicular pain or radiculopathy.
[top]
Your physician will request diagnostic testing to help determine the best treatment plan.
X-rays - X-rays are usually the first step in diagnostic testing methods. X-rays show bones and the spaces between the bones.MRI (Magnetic Resonance Imaging) uses a magnetic field and radio waves to generate highly detailed pictures of the inside of your body. Because X-rays only show bones, MRIs are needed to see soft tissues like spinal discs. These images help your doctor provide a more accurate diagnosis. MRIs are very safe and usually pain-free.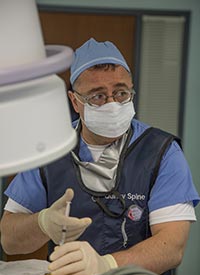 CT scan/myelogram - A CT scan is similar to an MRI because it provides additional diagnostic information about the internal structures of the spine. A myelogram is used to diagnose a bulging disc, tumor or changes in the bones surrounding the spinal cord or nerves. A local anesthetic is injected into your low back to numb the area. A lumbar puncture (spinal tap) is then performed. A dye is injected into the spinal canal to reveal where problems lie.
Discography - Discography is used to determine the internal structure of your disc. It is performed with a local anesthetic by injecting dye into the disc under X-ray guidance. An X-ray or CT scan is performed to determine if the disc's structure is normal or abnormal and if the injection causes pain. A benefit of a discogram is that it enables the spine surgeon to determine the disc level that is causing pain. This ensures that surgery will be more successful by reducing the risk of operating on the wrong disc.
Injections - Pain-relieving injections can act as a bridge to physical therapy by relieving back pain and providing the physician with important information about your problem.
[top]
Unlike muscles which can heal somewhat quickly, a torn or degenerated disc heals more slowly. The good news is that in many cases, the pain and inflammation originating from damaged discs can be treated nonsurgically by reducing the inflammation and by strengthening the musculature surrounding the damaged disc to give it more support.
[top]
What is degenerative disc disease?
A natural byproduct of aging is the loss of resiliency in spinal discs and a greater tendency for them to herniate, especially when placed under a weighty load, like when we lift heavy objects. Additionally, some people have a family history of degenerative disc disease, which increases their own risk of developing it. When a natural disc herniates or becomes badly degenerated, it loses its shock-absorbing ability, which can narrow the space between vertebrae.
Who is a candidate for the artificial disc?
Patients with a diseased disc between L4 and L5 or between L5 and S1 (all in the lower back) that is worn out or become injured and causes back pain are candidates for the artificial disc. Other candidates include those with degenerative disc disease (DDD) whose bones (vertebrae) have moved less than 3mm. Your physician will help you determine whether or not the artificial disc is a good choice for you. Factors that will be considered include your activity level, weight, occupation and allergies.
What are the benefits of the artificial disc?
Generally speaking, those who receive artificial disc replacements return to activity sooner than traditional fusion patients. Also, because there is no need to harvest bone from the patient's hip, there is no discomfort or recovery associated with a second incision site. Some of the overall benefits of artificial disc surgery include:
Retains movement and stability of the spine
Prevents degeneration of surrounding segments
No bone graft required
Quicker recovery and return to work
Less invasive and painful than a fusion
Reduces pain associated with disc disease
What are the cons of the artificial disc?
When treating knee and hip replacement patients, orthopedic surgeons try to postpone the implantation of an artificial joint until a patient is at least 50 years old so that they do not outlive their artificial joint, which typically lasts anywhere from 15 to 20 years. Revision surgery, which may be necessary to replace a worn-out artificial joint, can be complex.
This is also a concern with the artificial disc. Unlike knee and hip replacement patients who are typically in their 50s or 60s, many patients can benefit from artificial disc technology at a much younger age — in their 20s or 30s. Therefore, the implantation of an artificial disc in younger patients can raise a surgeon's concern about the potential life span of the artificial disc in the spine and the need for revision surgery to replace a worn-out artificial disc, which can be complex.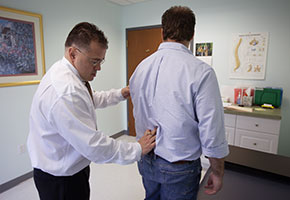 Because of the weight of the body and the rotational stress that the trunk places on discs in the low back (lumbar) area, more stress is placed on artificial discs in the lumbar area than in the neck (cervical) area, which only supports the weight of the head.
Due to the fact that the surgeon must access the front of the spine, an incision is made in the abdomen for lumbar discs and in the front of the neck for cervical discs. Typically, access to the cervical discs can be easier than the lumbar discs.
What caused my disc to herniate?
Herniated discs can occur as a result of a heavy strain or fall, which causes the nucleus to break through the wall of the disc and place pressure on the nerves that branch out from the spinal cord. For example, lifting a heavy object after sitting down for a long period of time can cause a disc to herniate.
What is the best way to treat a herniated disc?
Nonsurgical treatment methods are always the best option to try first. This will most likely involve working with a physical therapist who will develop a customized exercise program involving specific stretches and extension movements for you.
[top]
About Us | Treatment | Spine Conditions | Educational Resources | Contact Us
Disclaimer:
Pictures of the spine center physicians, staff, patients and facilities are for educational purposes related to Quincy Spine Center only and are Copyright @ 2016.