Referrals - Quincy Spine Center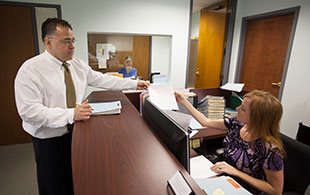 Quincy Spine Center receives referrals from family practice physicians, orthopedic surgeons and neurosurgeons who want to explore non-surgical spine care treatment options for their patients. If you've been referred to us, can make your appointment by calling us at 617-773-6300.
If you already have imaging studies related to your spine problem (for example, MRIs, CTs, X-rays), your physician or you will need to make arrangements to have those sent to the Quincy Spine Center for evaluation.

Some health plans have specific rules you must follow in order to be seen by any specialist. If your health insurance company requires a referral from a primary care physician, remember that it is your responsibility to provide us with the necessary referral authorization and documents. You must have this referral information with you during your initial appointment to be seen by the doctor.
300 Congress St, Suite 304
Quincy, MA 02169
Appointments: (617) 773-6300
Rich Mazzaferro, DO, Board Certified in Physical Medicine & Rehabilitation
About Us | Treatment | Spine Conditions | Educational Resources | Contact Us
Disclaimer:
Pictures of the spine center physicians, staff, patients and facilities are for educational purposes related to Quincy Spine Center only and are Copyright @ 2016.
Home Remedy Book

Get our 36-page Home Remedy Book that has special stretches that relieve many pain symptoms. Click here to request it.
Quincy Bundled Rate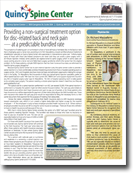 Click here to find out more about a simple 20 minute office procedure — at a $500 bundled rate — that can eliminate the need for spine surgery.

Exercise Library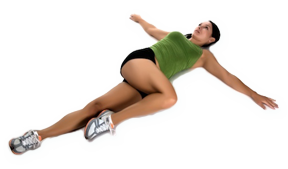 Click here to see our exercise library with special exercises that can make your back stronger, more flexible and resistant to future strain.
Anatomy Library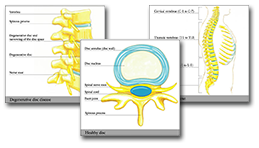 Click here to view educational medical illustrations that reveal what causes back and neck pain.