Physical Medicine
A physiatrist, or physical medicine and rehabilitation doctor, specializes in the nonsurgical management of back and neck pain. While many doctors provide drugs to mask symptoms of pain, these drugs leave a patient debilitated and dependent upon them for pain relief. A physiatrist, on the other hand, provides techniques and treatments that enable back and neck pain sufferers to return to activity without surgery.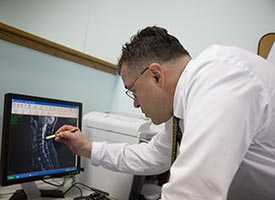 With so many subspecialties in medicine, it is no wonder that many people do not know exactly what a physiatrist does, even if they have heard the term. It has become a nationwide trend for highly respected spine centers to use physiatrists to treat cases of back and neck pain.
A physical medicine and rehabilitation (PMR) doctor may use a variety of tests to diagnose your back or neck pain. Physiatrists may also use spinal injections for pain relief and for diagnostic purposes.
Essentially, a physiatrist has unique skills to offer a back or neck pain sufferer. Instead of masking pain with drugs, a physiatrist identifies the cause of the pain. They often help patients relieve pain symptoms without surgery.
About Us | Treatment | Spine Conditions | Educational Resources | Contact Us
Disclaimer:
Pictures of the spine center physicians, staff, patients and facilities are for educational purposes related to Quincy Spine Center only and are Copyright @ 2016.