In the News
NEWS RELEASE June 20, 2013
Quincy Spine Center launches new online spine encyclopedia and free Home Remedy Book for back and neck pain sufferers
Quincy Spine Center has developed an online spine encyclopedia for those with back and neck pain, and for its referring physicians who can provide that educational resource to their patients.

The content rich Internet site at www.QuincySpineCenter.com has information about what causes back and neck pain symptoms, when surgery is necessary, when to see a physician, non-surgical treatment options to explore before spine surgery, how to lift with correct body mechanics, medical illustrations and an extensive exercise library. Patients through the site can also request a free 36-page Home Remedy Book with pain relieving stretches and symptom charts.
"We are committed to a well-informed patient," explains Dr. Richard Mazzaferro, a board-certified specialist in Physical Medicine and Rehabilitation and founder of Quincy Spine Center. "The problem with spine care is the vast amount of misinformation that is out there that can steer patients to non-productive passive feel-good-but-cure-nothing treatments and pills. People who've hurt themselves on the job are often confused about where to go, because there are so many people that have a financial bias in what they recommend to the employee with on-the-job back or neck injury. We have the best interests of the patient in mind. We have no financial incentive to recommend a spine surgery so we are going to help the patient where possible explore non-surgical treatment options. And if surgery is necessary, we can refer them to the best spine surgeon for their particular diagnosis."
About Us | Treatment | Spine Conditions | Educational Resources | Contact Us
Disclaimer:
Pictures of the spine center physicians, staff, patients and facilities are for educational purposes related to Quincy Spine Center only and are Copyright @ 2016.
Home Remedy Book

Get our 36-page Home Remedy Book that has special stretches that relieve many pain symptoms. Click here to request it.
Quincy Bundled Rate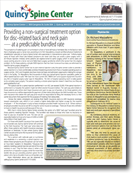 Click here to find out more about a simple 20 minute office procedure — at a $500 bundled rate — that can eliminate the need for spine surgery.

Exercise Library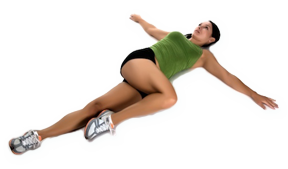 Click here to see our exercise library with special exercises that can make your back stronger, more flexible and resistant to future strain.
Anatomy Library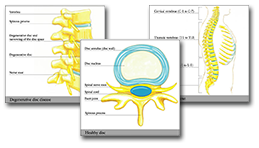 Click here to view educational medical illustrations that reveal what causes back and neck pain.