Proper Lifting
How to Lift Without Hurting Your Back
When lifting, maneuver the object close to your body, and use the strength in your LEGS to get the object off the ground, rather than your low back.
Lifting Menu




Proper Lifting - Single Knee Method

Start with one knee on the floor, use the strength of your arms to raise the object up onto your mid-thigh, then use the power of your legs to stand up.




An alternate way to lift is to position the object in between your knees. Keeping your back straight and arms extended, begin to stand up using the power of your leg muscles, rather than your back, to generate the lifting force.




Note that the left image above shows the incorrect stance for lifting. This posture is dangerous because of the unnecessary strain it puts on the back.



Have you ever heard of anyone straining a thigh muscle while lifting? Hardly ever. That is because the muscles in the legs are longer, stronger, in better shape and more resistant to strain. The muscles and ligaments in the back are shorter and prone to muscle spasm.
About Us | Treatment | Spine Conditions | Educational Resources | Contact Us
Disclaimer:
Pictures of the spine center physicians, staff, patients and facilities are for educational purposes related to Quincy Spine Center only and are Copyright @ 2016.
Home Remedy Book

Get our 36-page Home Remedy Book that has special stretches that relieve many pain symptoms. Click here to request it.
Quincy Bundled Rate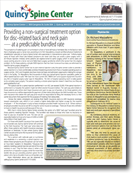 Click here to find out more about a simple 20 minute office procedure — at a $500 bundled rate — that can eliminate the need for spine surgery.

Exercise Library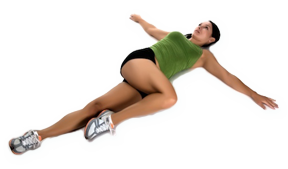 Click here to see our exercise library with special exercises that can make your back stronger, more flexible and resistant to future strain.
Anatomy Library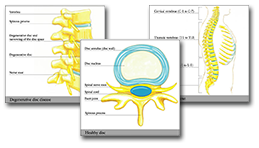 Click here to view educational medical illustrations that reveal what causes back and neck pain.