A resource for back and neck pain for those across the Boston South Shore & Cape Cod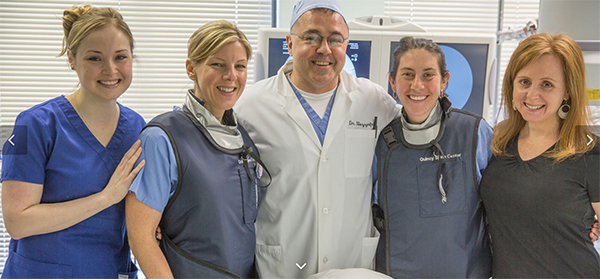 Dr. Richard Mazzaferro is a board-certified specialist in Physical Medicine & Rehabilitation who specializes in the nonsurgical treatment of back pain and neck pain. Dr. Mazzaferro has more than 20 years experience in spine. In 2002, he finished his residency training at the Harvard Medical School's Department of Physical Medicine and Rehabilitation. He is the founder of Quincy Spine Center.
Dr. Mazzaferro is proficient in the use of lumbar and cervical interventional pain procedures. Quincy Spine Center provides an array of nonsurgical treatment options for those with back pain, helping many patients to get back to their favorite sport: golf, tennis, pickle ball, etc. without the need for surgery. The spine center office includes a spine therapy department and an exercise gym. Quincy Spine Center also includes a convenient internal injection suite so patients can have a pain-relieving injection and leave for home 45 minutes later. This if much more convenient that an ambulatory surgery center or hospital outpatient center.
Quincy Spine Center provides second opinions for back surgery, neck surgery and other spine problems. The spine center receives patients that are referred by other physicians in the following cities across the Boston area and South Shore, including the cities of: Braintree, Dedham, Foxborough, Brockton, Plymouth and Wareham. Additionally patients are referred from across Cape Cod including the towns of Sandwich, Mashpee, Barnstable, Dennis, Harwich, Orleans, Eastham, Wellfleet, Truro and Provincetown.
For those in the Cape Cod region, seeking a specialist in back and neck pain can otherwise involve a very inconvenient trip to Providence, Rhode Island or Boston. In either case, going to a major city can mean dealing with traffic jams and a crowded hospital campus with parking hassles.
Consequently even patients from South Boston elect to drive to the suburb of Quincy for convenient access to a spine specialist. Patients from Cape Cod can make the 45 mile drive from Cape Cod to reach Quincy Spine Center in about 45 minutes up MA-3 along the South Shore.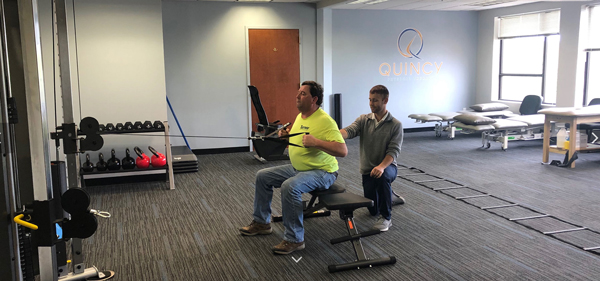 If spine therapy is recommended by Dr. Mazzaferro, the spine therapists at Quincy Spine Center can provide a local therapy clinic in Cape Cod to provide the recommended spine therapy program. If spine surgery is necessary for a herniated disc and symptoms of radicular pain or weakness/numbess in a leg or arm, Dr. Mazzaferro has affiliated spine surgeons who can be consulted.
Quincy Spine Center is located at 300 Congress St Suite 304, Quincy, MA 02169. Appointments can be made by calling us at 617-773-6300. If you have any MRI or X-ray films, the staff can advise you on how provide them to us.
Some health plans, including HMOs, have specific rules to be seen by any specialist. If your health insurance company requires a referral from a primary care physician, remember to provide us with the necessary referral authorization and documents in advance.