Clinical Outcomes for Quincy Spine Center
Quincy Spine Center uses written protocols that ensure non-surgical treatment options are exhausted in advance of spine surgery. The spine program at Quincy Spine Center uses the following outcome system: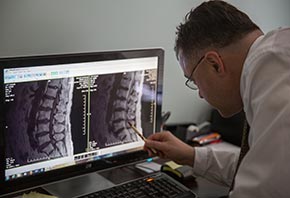 The Prizm spine outcomes system measures and tracks the non-surgical treatment process, including the severity of patients coming into the spine center; the percent of patients receiving therapy, injections and surgery; the percent of patients taking pills for relief of pain 3 to 6 months after treatment; and the improvement in functional status, neurological symptoms and analog pain scales.
New patients coming into Quincy Spine Center complete an intake form that measures their pain level, severity of symptoms and functional status. Three months after their first visit, an outside nurse, not employed by Quincy Spine Center, calls a random sample of patients and interviews them for functional status, symptoms and patient satisfaction. This is the most unbiased method for outcomes analysis. The clinical outcomes presented here are analyzed and validated by an outside firm, Prizm Development, Inc., that specializes in tracking spine outcomes nationally, and is the most experienced entity in the nation related to spine specialty centers.
A key part of spine care is to prevent re-injury and a future back strain. As part of their care at Quincy Spine Center, patients are provided a Home Remedy Book with stretches that relieve symptoms at home and symptom charts that reveal emergency symptoms that need to be seen by a physician in 48 hours to prevent permanent paralysis of muscles and nerves. Those patients who receive spine-specialized physical therapy at Quincy Spine Center are give a customized Home Exercise Program specific to their diagnosis and spine problem. The educational book also shows ways to lift objects correctly to prevent a future strain. This emphasis on prevention, enables the person to make their back stronger, more flexible and more resistant to future strain. This is the secret to long term freedom from back or neck pain.
Quality is a journey, however, rather than a destination, and we are committed to continually improving.
[Top]
About Us | Treatment | Spine Conditions | Educational Resources | Contact Us
Disclaimer:
Pictures of the spine center physicians, staff, patients and facilities are for educational purposes related to Quincy Spine Center only and are Copyright @ 2016.
Home Remedy Book

Get our 36-page Home Remedy Book that has special stretches that relieve many pain symptoms. Click here to request it.
Quincy Bundled Rate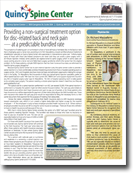 Click here to find out more about a simple 20 minute office procedure — at a $500 bundled rate — that can eliminate the need for spine surgery.

Exercise Library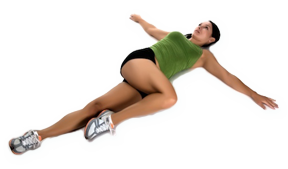 Click here to see our exercise library with special exercises that can make your back stronger, more flexible and resistant to future strain.
Anatomy Library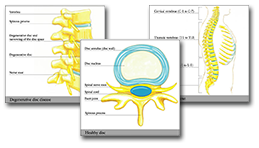 Click here to view educational medical illustrations that reveal what causes back and neck pain.